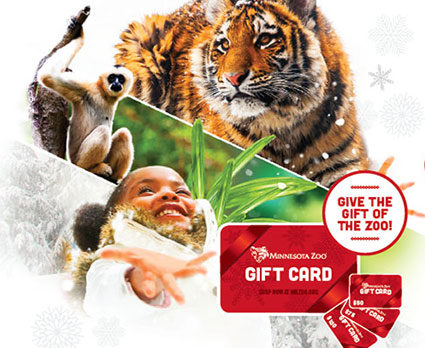 Gift cards may be purchased online or by calling the Minnesota Zoo at 952-431-9200 (toll free – 1-800-366-7811).
If you are interested in purchasing a gift membership (best value), please click here.
Please allow up to 1 week to receive the Gift Card(s) in the mail. Orders are generally fulfilled within 2 business days or less.
Check your gift card balance.
Technically, all that it takes to use a Minnesota Zoo Gift Card is the Gift Card number. The Gift Card number is listed within the order confirmation. What does that mean you ask? It means that you can purchase the Gift Card online and creatively use the Gift Card number as a last-minute gift. For example, you can create and print a document with the Gift Card number on it; or write the Gift Card number inside of a special card; or forward the order confirmation email to whomever you are giving it to; or you could text the Gift Card number; etc.. Please note that you will need to write/print the Gift Card number exactly as it appears within the order confirmation (e.g. capital letters/hyphen/numbers).
Unless you choose the No Mail option, we will still physically mail out the Gift Card(s) to either you or the recipient (who you are giving it to). You choose where it gets mailed to (note, there is a $3.00 shipping/processing fee per Gift Card order, unless you chose the No Mail option).

ABOUT YOUR Minnesota Zoo GIFT CARD
You may use your Minnesota Zoo gift card online, over the phone, or in person at the Minnesota Zoo Guest Services Desk.
Gift cards may be used to purchase Minnesota Zoo admission, parking, memberships, education programs, special events, stroller rentals, birthday parties and more, or may be exchanged at the Zoo for Zoo Bucks to use in the Zoo's gift shops and restaurants.
Gift cards are not redeemable for cash.
Gift cards do not expire.

REDEEMING YOUR GIFT CARD
Online:
Enter your gift card at the Order Details screen; if your gift card does not cover the entire amount of your purchase, enter your credit card information for the balance at the Billing Information screen. The gift card code may include capital letters and a hyphen (for example, A2BC-1015438).
By Phone:
Call the Minnesota Zoo at 952-431-9200 and place your order. When it comes time to pay for your order, give your gift card number printed on your gift card.
In Person:
Visit the Minnesota Zoo Guest Services desk and present your gift card.
Zoo Bucks:
Your gift card may be exchanged for "Zoo Bucks," which may be used at any of the Zoo's gift stores or restaurants. Zoo Bucks are available only at the Guest Services desk and may only be redeemed in person at the Zoo; Zoo Bucks may not be used online or over the phone.